Who we are



Created in 2002, and formally constituted as a non-profit organization in 2003, the International Network on Migration and Development (INMD) is a growing, global network of scholars and social leaders recognized as a world´s leading authority on research addressing the complex links between development, international migration and human rights. Since its inception, INMD has made significant contributions to the debate, with active participation on global fora such as the Global Forum on Migration and Development and World Social Forum on Migrations.


VISION

INMD envisions a world with diminishing asymmetries among countries and regions, declining social inequalities, and sustainable human development. This enables free and secure human mobility where migration is an option and not a necessity. Moving towards this future, INMD aims at becoming a knowledge leader in the field of international migration and development.


MISION

INMD seeks to contribute to the global debate on the complex links between development and international migration aiming at enhancing civil society organizations capacities and affecting public policies at different levels.

A unique approach of INMD is to contextualize the problematic considering both migratory corridors as a unit of analysis, and the whole spectrum of the migration process: origin, destination, transit, second generation and return.


TOOLS

INMD understands that research outcomes seldom translate automatically into policy changes. That is why in pursuing its overall goal, INMD´s strategy integrates different instruments:

* Collaborative, policy-oriented research
* Ambitious program for dissemination of knowledge
* Active presence in global, regional and national fora
* Opening new spaces for S-S and N-S dialogues
* Strengthening capacities to use research knowledge in coherent policy making


THE RESEARCH AGENDA

* Unequal development and migration
* Strategic indicators to monitor migration-development-human rights in key migration corridors
* Migrant organizations and transnational citizenship
* Migration and human security
* Migration and decent work
* High skilled migration and the restructuring of innovation systems
* Environmental degradation, climate change, and migration
* Understanding the policy making process at national, regional, and global levels


DISSEMINATION OF KNOWLEDGE

INMD has an ambitious program of knowledge diffusion through:

* The biannual journal "Migration and Development"
* Books: 34 books published
* The INMD web site
* Technical reports, concept papers, and policy briefs
* Strategy to inform public opinion through mass media
INMD publications are available at INMD's web site (including full text of books). The journal is published in English and Spanish.


NETWORKING

INMD has both institutional and individual members from all continents. INMD's partner institutions are well known research and civil society organizations. Individual members are researchers and students from different disciplines, as well as leaders of civil society organizations and activists. INMD facilitates networking promoting collaborative research work based on regional nodes and thematic working groups with focus on the priority themes jointly identified by researchers and civil society leaders.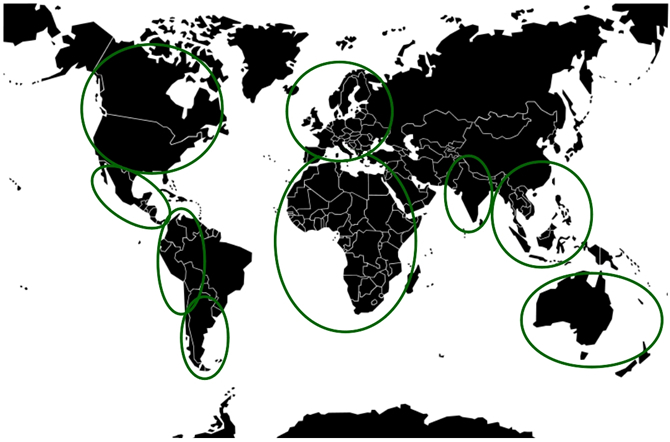 With headquarters at the Academic Unit on Development Studies, Autonomous University of Zacatecas, in Mexico, INMD facilitates comparative studies, collaboration and knowledge exchanges across regional nodes. It also organizes and facilitates new spaces for N-S and S-S dialogues, opportunities for interactions among researchers, public officials, and leaders of civil society organizations, and strengthen a new generation of young researchers from the global South. All along, INMD promotes more balanced perspectives in a global debate that is often heavily influenced by opinions and ideas coming mostly from northern, industrialized, receiving countries.


STREGTHENING CAPACITIES

INMD understands the complexity and diversity of policy making processes at different levels and in different migratory corridors. As this is a research topic in itself within the INMD agenda, the network complements its approach through:

* Strengthening the capacity of researchers to conduct high quality, relevant research, and to translate research outcomes into useful pieces of information to inform public opinion and affect policy making processes.
* Strengthening the capacity of civil society organizations to gain access and use outcomes from research to support their advocacy work.



MEMBERSHIP BENEFITS

INMD members benefit from a variety of resources that enhance networking and information sharing, mainly through the INMD's portal.

* Full and free access to all the issues of the "Migration and Development" journal (English and Spanish versions).
* Access to materials from previous INMD events including PowerPoint presentations, handouts, and papers.
* A searchable membership database, including members' geographic focus, issue interests and most relevant publications.
* A INMD Newsletter.
* Participation on INMD working groups, committees, and regional nodes.br> * Discounts on INMD conferences' registration fees.



CLICK HERE TO BECOME A MEMBER OF INMD