Saturnino M. Borras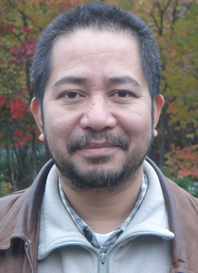 E-mail: junborras@yahoo.com


PhD in Development Studies, ISS, The Hague, 2004. Is the Canada Research Chair in International Development Studies at Saint Mary's University, Halifax, Nova Scotia, Jan. 2007–Dec. 2010. Beginning January 2011, he is (re)joining the Rural Development, Environment and Population Studies of the International Institute of Social Studies (ISS) in The Hague, Netherlands. He is an Adjunct Professor at the College of Humanities and Development (COHD), China Agricultural University in Beijing. He is currently a Fellow of the Amsterdam-based Transnational Institute (TNI), a worldwide fellowship of scholar-activists, and a Fellow of the California-based agrarian-oriented independent research and advocacy think tank, Food First. He is a member of the Dutch development agency Inter-Church Organization for Development Cooperation (ICCO) Southeast Asia Regional Council. He is a member of the International Advisory Board of the Journal of Agrarian Change and of the soon-to-be launched Critical Development Studies, and is the Editor-in-Chief of The Journal of Peasant Studies.

He has published ten (10) single-authored and (co-)edited books, including the award-winning 'twin books' Competing Views and Strategies on Agrarian Reform, Vol. 1: International Perspective and Vol. 2 Philippine Perspective (2008). He has published numerous refereed articles, papers and book chapters, many of which were published in academic journals, including the Journal of Agrarian Change, Development and Change, Journal of Development Studies, Review of International Political Economy, Third World Quarterly, Dialectical Anthropology, Critical Asian Studies, European Journal of Development Research, Progress in Development Studies, Journal of International Development, Yale Human Rights and Development Law Journal, and Journal of Peasant Studies.

His thematic areas of work are grounded on agrarian political economy and political sociology, and include: land policies, (trans)national agrarian movements, NGOs and civil society, food policies and politics, forestry, overseas development aid, agricultural development and trade, rural livelihoods, state-society interactions in rural development, rural conflict and development, plantation workers, biofuels and global land grabbing, 'land-energy-food sovereignty' – internationally, but with special regional focus on Southeast Asia, China, Southern Africa, and Southern America, and on international 'spaces' of state-society interactions. He is currently undertaking research in these regions on: (i) biofuels and their impact on food production, land use and land property relations, (ii) transnational agrarian movements and their various campaigns, (iii) various national land reforms, (iv) global land grabbing and its impact on food production and existing agrarian structures, and (v) the relationship between land, energy and food sovereignty.

The emphasis of his work is on bridging academic research, development policy practice and civil society actions. This is influenced by his professional background: He has been deeply involved in rural social movements since the early 1980s. He was part of the core organizing team that established the international peasant and farmer's movement La Via Campesina and was a member of its International Coordinating Commission (ICC) from 1993 to 1996. In various capacities (consultancy and solidarity), he has worked with several international, European, US and Canadian nongovernmental development agencies and foundations, and has assisted organizations and movements of rural poor in various countries in the global South. He has consulted with the FAO, UNDP-Bureau of Development Policy, UNDP-Oslo Governance Centre, and the International Fund for Agricultural Development (IFAD). He has co-founded a global network of academics, development policy experts and social movement activists, the Initiatives in Critical Agrarian Studies (ICAS), and serves as its Coordinator. ICAS has in turn spearheaded a number of innovative initiatives, including a book series in critical agrarian studies in multiple languages, as well as a global network of research institutes and researchers carrying out studies on global land-grabbing, the Land Deal Politics Initiative (LDPI), a collaborative undertaking by ICAS, IDS Sussex, ISS/RELIVE in the Hague, PLAAS/University of the Western Cape in South Africa, and the Polson Institute for Global Development/Cornell University, USA.