Wayne Cornelius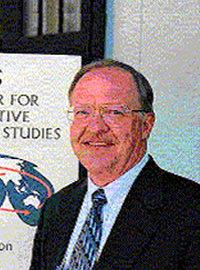 E-mail: wcorneli@ucsd.edu


Gildred Professor of Political Science and U.S.-Mexican Relations Adjunct Professor of International Relations and Pacific Studies Director, Center for Comparative Immigration Studies Ph.D., Stanford University .

Cornelius specializes in comparative studies of the political economy of immigration and immigration policy in advanced industrial nations, Mexican politics, and U.S.-Mexican relations. He is the author, co-author, or editor of more than 200 publications dealing with these subjects. He has conducted field research in Mexico since 1962, in the United States since 1978, and in Japan and Spain since 1992. He is Past President of the Latin American Studies Association. He founded UCSD's Center for U.S.-Mexican Studies in 1979 and directed it from 1979-1994 and 2001-2003. He is also the founding director of UCSD's Center for Comparative Immigration Studies, established in 1999, which conducts comparative research on international migration and refugee movements, especially in the North American, Western European, and Asia-Pacific regions.

He was Professor of Political Science at MIT from 1971-1979 and he has been a visiting professor at Harvard, Princeton, Stanford, Oxford, the University of Tokyo, and the Woodrow Wilson International Center for Scholars. At UCSD he teaches in the fields of comparative politics (Mexico) and public policy analysis (immigration policy). He was awarded the UCSD Alumni Association's Distinguished Teaching Award for 2003. His current research projects include a comparative analysis of immigration control measures and their outcomes in 11 industrialized nations, a comparative study of the political economy of immigration in the United States and Japan, an analysis of the efficacy and consequences of U.S. border enforcement strategy, and a study of voting in home-country elections among Mexican immigrants in the United States. Recent books are Controlling Immigration: A Global Perspective (co-author/co-editor; 2nd ed., Stanford University Press, forthcoming), and The International Migration of the Highly Skilled (co-author/co-editor, Center for Comparative Immigration Studies, 2001).