Mariama Awumbila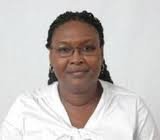 E-mail: mawumbila@hotmail.com


Dr. Mariama Awumbila is the Head, Centre for Migration Studies and also Senior Lecturer, Department of Geography and Resource Development, both at the University of Ghana.

She holds a Bachelors degree in Geography with Sociology, a Post Graduate Diploma (Population Studies) from the University of Ghana and a Ph.D. (Geography) from the University of Newcastle Upon Tyne, UK.

Her research interests includes population, gender, environment and development inter-relationships, migration and development and in participatory research methodologies. She has undertaken extensive research and published in the areas of migration, livelihoods and development, land and natural resource tenure and management, gender and development and poverty reduction strategies. She has also provided extension services for several national and international agencies and community based organizations in Ghana.

She is a member of the international Geographical Union (IGU) steering committee on Gender and Geography, the Union of African Population Scientists, and the Ghana Geographical Association. She currently serves on several national Boards including the Ghana Statistical Service Board, the Ghana National Council for Tertiary Education, the University Council of the University for Development Studies among others.