Ferruccio Pastore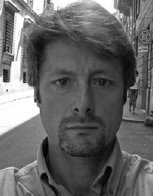 E-mail: ferruccio.pastore@fieri.it


http://www.fieri.it/curriculum_pastore.php
July.1990: Degree in Law at the University of Torino (Italy) - Final dissertation: "Immigration and Integration in Europe since 1945" (supervisor: professor Amedeo Cottino; final mark: 110/110 cum laude).
Dec.1996: Ph.D. in Legal Studies at the European University Institute (Florence - Italy) – Dissertation title: "Familles entre les droits. Essai de reconstruction socio-historique de la condition juridique des familles migrantes de pays arabo-musulmans vers l'Europe" (supervisors: professor Hans Ulrich Jessurun d'Oliveira and professor Giorgio Gaja; compliments of the Examining Board).

Professional experience:
Oct. 1989 - May 1991: Researcher for Ires-CGIL. Collaboration in an anthropological research project about non-European immigration in Torino. Supervisors: professor Vanessa Maher and professor Adriana Luciano (University of Torino).
Apr. 1989 - Apr. 1990: Civil service as a conscientious objector at the Immigration Bureau of the Town Administration of Torino. Main activity: legal counsel for migrants. Sept. 1990 - Feb. 1991: Research activity for the cultural association Eau Vive (Torino) - Collaboration in a research project on local immigration policies in France and Italy. Apr. 1991 - July 1991: Visiting fellow at the Institut de Recherche sur le Monde Arabe et Musulman-IREMAM (Aix-en-Provence, France), supported by a grant awarded by the Italian Consiglio Nazionale delle Ricerche and the French Centre National de la Recherche Scientifique-CNRS.
Since 1992: Professor in several training courses on international migrations and immigration law and policy, organized by private associations and public bodies, among which: Province of Torino; Province of Livorno; Unità Sanitaria Locale 1-Torino; Coordinamento Nazionale Immigrati CGIL [Italian trade union]; UNHCR; Training Academy and Police School of the Italian Ministry of the Interior.
March - July 1994: Adviser for the Institut du Monde Arabe-IMA (Paris, France) in the framework of a research project about the Islamic presence in Western Europe (supervisors: Mr.Robert Bistolfi and Mr.François Zabbal) Oct.1994 - May 1996: Research assistant for the vice-President of the Camera dei Deputati of the Italian Parliament (Mr. Luciano Violante). Main activities: comparative legal research, drafting of reports.
June - Dec. 1996: Member of a consulting committee for the reform of Italian immigration law under the auspices of the Consiglio Nazionale dell'Economia e del Lavoro-CNEL.
Jan. 1997 - Oct. 1999: Training as attorney, Law firm Cascini-Di Majo-Pastore-Roetti-Virando, Torino.
May 1997 – Aug. 1999: Advisor to the the President (Mr. Fabio Evangelisti) of the Parliamentary Control Committee on the Application of the Schengen Agreement and of the EUROPOL Convention, a specialised body of the Italian Parliament.
Jan. 1998 - Dec. 1999: Post-doctoral fellow at the University of Florence. Research activity in the field of European and international law. July 2000: Expert appointed by the Italian Presidency of the Council of Ministers for an international evaluation mission on migration controls at the Albanian borders organized by the International Centre for Migration Policy Development (ICMPD, Vienna).
July-December 2000: Adviser to the Office of the Prime Minister for the coordination of migration policies. June-July 2001: Visiting researcher at the Institute for Security Studies of the Western European Union (ISS-WEU, now ISS-EU), Paris.
January-December 2001: Editor of the section on "International Migration and Citizenship" of the journal of European affairs Europa Europe (published by Bollati Boringhieri, Torino).
January 1997-Dec. 2001: Coordinator of the Research Area on International Migration and New Security Issues at Centro Studi di Politica Internazionale-CeSPI (Roma).
Aug.-October 2002: Consultant for the International Organization for Migration for the preparation of the « Conférence Ministérielle sur la Migration en Méditerranée Occidentale », organised by the Ministry for Social Affairs of the Republic of Tunisia and the International Organization for Migration, Tunis 16-17 October 2002.
February-March 2008: Senior expert adivising the Spanish Fundación Internacional y para Iberoamérica de Administración y Políticas Públicas (FIIAPP) for the preparation of the Meeting of Experts on Legal Migration jointly organised by the Moroccan and Italian governments (Rabat, 3-4 March 2008).
Nov. 2007-May 2008: Senior expert contracted by the International Labour Office (Moscow office) for the preparation of a report on "Review of current international approaches with regard to regularization and disincentives for the employment of irregular migrant workers and recommendations for developing a sound regularization policy and procedures and discouraging employment of irregular workers".
January 2002-Dec. 08: Deputy Director of CeSPI. Responsible for strategic planning and research coordination in the areas of International migration and European studies. In charge for a team of 5-6 researchers and for the implementation of several multi-annual and transnational research projects, including large conferences and events. Since March 2009: Chair of the Migration and Integration Forum of the European Policy Centre (EPC) in Brussels.
Since April 2009: Director of the Forum of International and European Research on Immigration (FIERI, www.fieri.it, Torino).