Adriana Cruz-Manjarrez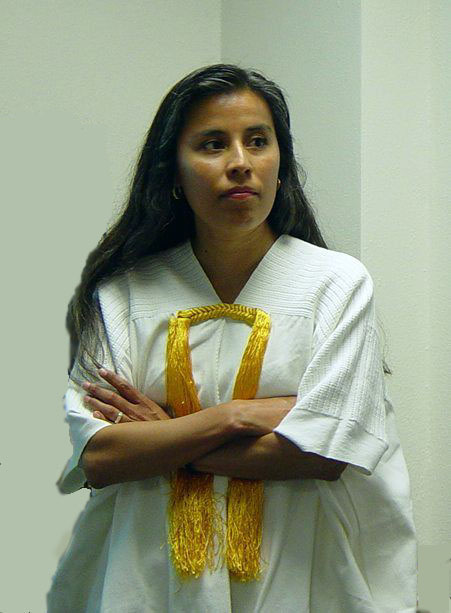 E-mail: adricrumz@gmail.com


Is a research professor at University of Colima, Mexico. She has a Ph.D. in Culture and Performance Studies from the University of California Los Angeles (2006). Adriana's interdisciplinary work specializes on the study of indigenous Mexican migration into the United States with a focus on transnationalism, community formation, identity, gender, and change in cultural practices.

Adriana Cruz forthcoming book (Rutgers University Press) Zapotec on the Move: Social, Cultural, and Political Processes in Transnational Perspective examines the social, cultural, and economic impacts of transnational migration on a community of Zapotecs, an indigenous group from Mexico. At present, she is editing a documentary that addresses immigrants' involvement in Zapotec religious patron saint fiestas and the politics of international immigrants' return and participation in their home village in Oaxaca, Mexico.

Her current research projects include the study of migration and indigenous Mexican women in the United States, and the paradoxes of integration of indigenous Mexican immigrants in North America.

Her main interests are to explore differences of power within transnational social fields in relationship to the construction of gender, race, class, and the second generation; and to examine the paradoxical processes found in the integration and construction of identity of indigenous Mexican immigrants in national and transnational contexts.

She has conducted research in two megacities such as Los Angeles and San Francisco, and Washington D.C., in the United States, and in Mexico City and Oaxaca in Mexico.

Current projects:
- Indigenous Mexican Women and Migration in the United States: gender, sexuality, love, marriage, and violence against indigenous women in local and transnational contexts.
- The paradoxes of social, economic, and political integration of indigenous Mexican Immigrants in North America.

She is author of "Trayectorias de integración social de indígenas mexicanos inmigrantes en California" in Multiculturalismo y Minorías Étnicas en Norte América (Universidad de Colima, forthcoming); "Los Zapotecos: lengua, identidad cultural, y la nueva segunda generación" in Antropología de la Migración: frontera, actores, y trabajo de campo (Colegio de Sonora, Universidad de Sonora, forthcoming); "Los Zapotecas de California: migración, mito, y comunidad en el mundo moderno" in Migración, Desarrollo, y Pobreza (Universidad Autónoma de Chiapas, Universidad Rey Juan Carlos, Universidad Autónoma de Chiapas, y Fundación Juan de la Costa 2010); "Identities of the second-generation Zapotec Americans" in Migración Internacional: Voces del Sur. México (Universidad del Estado de México, forthcoming); "Dancing to the heights: Performing Zapotec identity, aesthetics, and religiosity" in Dance across Borders (University of Illinois Press 2009), "Performing Zapotec Religiosity in the International Context of Migration" in Dance and Society. Dancer as a Cultural Performer, (Akadémia Kiadó and European Folklore Institute, Hungary, 2005), and "Rethinking theory in practice: Moving from the Past to the Present," in Journal of American Folklore, 2004).