Daniela Fitz Palafox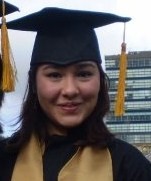 E-mail: dana_cillo16@hotmail.com


Education
National Autonomous University of Mexico (UNAM), School of Political and Social Sciences. Bachelor of Arts in 2012, GPA: 8.8 (10 pt scale), major: International Realtions. Thesis Project: Social Exclusion in the labor market of Mexican origin population in the United States College of Sciences and Humanities campus Vallejo at UNAM, Mexico City, Mexico. Received high school diploma in 2005

Work experience
Sep. 2011 – Collective Security Analysis for Democracy (CASEDE) - Research Assistant and collaborator in Up to now collective project in particular the Security and Defense Atlas of Mexico 2012.
March-2012. State Consultation to design a strategy for strengthening national security and justice for Media in Mexico, UNODC - Rapporteur of the consultation twice, where they discussed of strengthening instruments for the protection of journalists.
Feb – Center for Research on North America (CISAN) at UNAM – Support for the coordination of the Agust 2011 diploma for professional development and distance: "The United States, Mexico and Canada: A Regional and International Dimension".
July – 2011. Academic workshop between Cubans and Americans (TACE) - Rapporteur of the meeting between Cuban and American scholars, where they discussed issues relevant to the cooperation between both countries. May – Senate of Mexico - Contributor to the coordination of the course "North America. Problematic June 2011 Integration, Security and the Future of the Region".
Agust - Cultural Care – Au pair North Carolina – United States Nov. 2010 Worked for an organization dedicated to taking care and teaching of children.
April 2009 - Center for Research on North America (CISAN) at UNAM - Researcher Mexico City, Mexico Oct • Completed my Social Service requirement in the Research Area.
• Reviewed and archived information from the daily newspapers about US-Mexico relations.
• Researched and found documents solicited by the center`s investigators.