Raúl Delgado Wise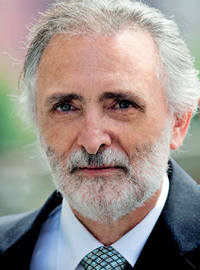 E-mail: rdwise@estudiosdeldesarrollo.net


Dr. Raúl Delgado Wise received his doctorate in social sciences from the University of Pennsylvania. Through a 35 year trajectory as researcher, he has published/edited 21 books, and written more than 150 essays, including book chapters and refereed articles. He has been guest lecturer in more than 30 countries in the 5 continent and was the key-note speaker for the opening session of the First Global Forum on Migration and Development celebrated in Brussels, July 2007.

He received the annual prize for economic research "Maestro Jesús Silva Herzog" in 1993. He is a member of the Mexican Academy of Sciences, of the National System of Researchers (level III), and of several scholarly associations in Canada, the United States, Latin America and Europe. He is the editor of the book series on "Desarrollo y Migración" and "Estudios Críticos del Desarrollo" for Miguel Angel Porrúa publishers. He is also adjunct Faculty member of the International Development Studies program at Saint Mary's University and the Latin American Studies Department at Simon Frasier University in Canada, the Institute for Research on Migration, Ethnicity and Society at Linköping University, and the Master's programs in International Migration at the Universities of Bilbao and Valencia in Spain.

Dr. Delgado Wise is president and founder of the International Network on Migration and Development, co-Director of the Critical Development Studies Network, director of the Journal Migración y Desarrollo (incorporated in the index of scientific journals of the National Council of Science and Technology), and professor and former director (2002-2012) of the Doctoral Program in Development Studies at the Autonomous Zacatecas. He is also coordinator of the UNESCO Chair on Development and Human Rights and member of the advisory board of the UNESCO-MOST committee in Mexico.